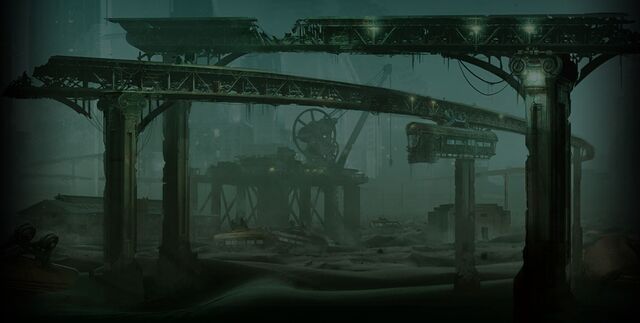 AE scrapyard (Bioshock 2 in-game view from Paupers Drop)  This looks like a scrapping area for old equipment.
Mk1 style Atlantic Express equipments and track components.
Some track sections/routes of this (Mk1) style continued to run passenger traffic post-AE-bankruptcy (we rode some  in BS2).  Possibly Prentis Mill ran it as his hobby RR trainset (it ran thru a lesser part of the City which hadnt warranted Mk2 replacement and could use remaining equipment that hadnt yet worn out).
Superceded by Mk2 (which had greater capacity and speed and new routes/destinations).  That system was still insufficient for the City's passenger traffic needs (Passenger business being replaced by Metro Transit Trolleys and Bathyspheres.)   AE Freight traffic continued to most City destinations and Long-Distance Passenseger traffic outside Rapture City continued in service.
Ryan made use of the AE Freight trackage system during the 'Civil War' to move his forces around as well as to continue supplying the majority of the City's surviving Citizens.
Note - the building lower left in picture is simply a copy of a surface 1900 era industrial building (corrugated  metal roof and ventilation projection) inappropriate for the deep water while the one on the lower right at least has a concrete bunker shape better suited.
The AE track pillars dont seem to have enough spacing offset for the center 'rail' system the MK1 AE track used (the leftmost one which clearly has a track approaching it  (one on left potentailly might have only had track on the opposite side..)    Too Nit Picky ??  (MMORPG would do better)
.
.
Appears on these pages

of
Sitemap Black dotted lines are the Mk2 AE system and Blue dotted lines are what remains of the...
File history
Click on a date/time to view the file as it appeared at that time.